By Gaby Dufresne-Cyr, CBT

The difference between commercially made dog food (kibble) and raw food diets are enormous. In order to understand the differences, one must first know how kibble is made. Dry dog food is made from leftover human products, thus companies who write "human grade" on the bag of kibble are not lying. What they don't tell you is that those "human grade" products are the "through away/non-usable" ingredients leftover from the human food industry, or what is commonly referred to as by-products. If you believe fresh meat, grains, cereal, fruits and vegetables constitute your pet's diet, you are being duped by millions of dollars worth of marketing ploys.

First, kibble has to be in flour form BEFORE being processed. Unfortunately, manufacturers weigh the ingredients before mixing the product and the "fresh" chicken, which contains 80% water, will appear as the first ingredient on the list. Once dehydrated and mixed in, the "fresh" chicken comes in much further down the list. Second, the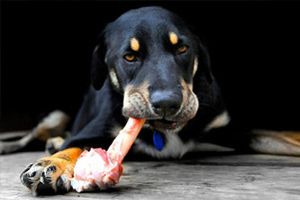 "fresh" chicken is everything BUT the meat. By-products are the leftover chicken carcasses without the beak, feathers, and feet. The cranberries or blueberries added as antioxidants are really the leftover dried pulp juice companies generate, which have little or no nutritional value left. Third, the entire mixture is blended and partially re-hydrated and cooked in an extruder (pasta-like making machine). Oils and vitamins are finally added to insure minimum nutritional requirements.

The human food industry found a nice little niche in commercial pet food to recycle its by-products. Coincidentally, disease, cancer, allergies, and chronic illnesses have been on the rise. Savvy pet owners had enough of this "convenient" diet and returned to the ancestral way of feeding their beloved animals. Raw food diets have been around for many years, but only recently have they made their way to Quebec's pet stores. Natural, non-processed diets prevent health issues and prolong your pet's life. It is a simple and affordable (drastically reduces veterinary bills) alternative to kibble. With basic hygiene, there is no more risk in manipulating raw diets than managing your own food. As for parasites found in human products, Canada has very high standards regarding meat processing; hence, if beef destined for human consumption is dangerous for your dog, why are YOU eating it?

On a final note. Dogs have a very short transit (digestive track) filled with super powerful acids designed to digest raw bones (never give a cooked bone to a dog); therefore, I believe the risks (which are very, very minimal) outweigh the benefits of raw food diets offer pets. Just think about this... A dog has a better chance of choking on a toy than on a raw bone!