By Gaby Dufresne-Cyr, CBT
Commercial dog food is highly processed and deprived of vitamins and minerals because the ingredients which constitute these diets are by-products deprived of nutritional value. When first introduced to the market, pet food was marketed as a supplementary diet. It was never destined to become a staple food. The over consumption of kibble causes two major side effects for dogs: allergies and chronic illnesses.
Allergies are manifested as skin dermatitis and chronic illnesses. The later varies from reoccurring ear infections to digestive issues such as diarrhea, flatulence, or urinary track infections. This is due to over consumption of highly processed grains and cereals. These fillers (grains, cereals, fruits, or legumes) irritate the bowel and become allergens in the dog's system. Raw food diets do not contain grains or cereals; therefore, prevent allergic reactions and excessive bowel movements. Vitamins and minerals have not been cooked or processed, thus, are assimilated naturally by the dog. Plus, all parts are digested and utilized with a very interesting side effect; stools are smaller and almost odorless.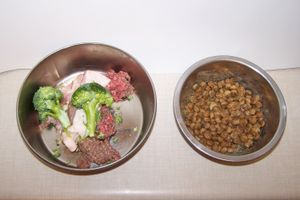 Making Raw Food
There are many raw food recipes on the Internet, but a simple rule of thumb is to compose a meal with 1/3 meat, 1/3 bone, and 1/3 organs + vegetables. Green vegetables are ideal but should be roughly chopped with a blender or food processor. The process of grounding the vegetables allows the dog to absorb the nutrients. Remember, dogs do not have chewing teeth, thus, are incapable of breaking down fiber to extract the vitamins and minerals.
A typical serving of raw food in our household is composed of a chicken or turkey carcass/meaty bone, minced meat, an organ, and a few green veggies. The total amount fed should represent approximately 1-2% of the dog's total body weight. A 454g meal would look like this; 150g of minced meat, 150g of meaty bone, 150g of a combination of organ and vegetables. Unless you are scanning for a food allergy, the source of protein can be mixed together. Wild game and fish are a good source of food; unfortunately, the price can be an issue.
I have been feeding my dogs an exclusively raw food diet for the past 10 years and have never had a salmonella contamination, smelly flatulence, veterinary visit/emergency, or allergic reaction. My dog's appetites are perfect and eating is a pleasure. I highly recommend owners feed their pets a raw food diet.