By Gaby Dufresne-Cyr, CBT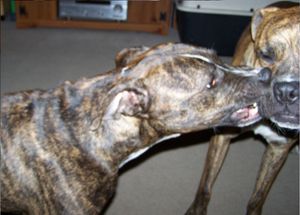 In human society, certain people have come to believe conflict is a necessary process in order to establish and maintain social relationships. That being said, non-human social animals have developed displacement behaviours to prevent conflicts from developing into full blown fights. To understand why conflict doesn't have to be part of social relationships, we have to look at both sides of the process.  
Conflict is all about resolving a communication problem; therefore, if organisms can communicate effectively, they can, and do, avoid conflicts. The problem in human culture is that people believe so firmly in their political, religious, social, or environmental ideas that they become inflexible; consequently, people aren't willing to sacrifice their beliefs in order to satisfy group cohesion. With such a diversified cultural heritage, conflict becomes unavoidable between people. 
Non-human social animals rely on group cohesion to survive; consequently, their communication skills are constantly practiced. What we've termed
ritualised behaviours
are nothing more than discussions practised over and over again to prevent conflict from escalating.
Aggression could dismantle the group
which in turn would compromise survival. In the animal world, conflict leads to injury and injury leads to death; therefore, conflict must be avoided or managed wisely. Your furry companion is governed by the same principle. Dogs want to avoid conflict with dogs or people because they don't want to get injured.
Prehistoric Conflict
There was a time in human history when conflict avoidance behaviours were active constituents of non-verbal language. People from different cultures had to devise behaviours (or gestures) other humans would understand as
this territory is occupied
. If intruders had no desire to conquer the new territory, the message was received and the intruders moved on. On the other hand, if hunger (or any other need) motivated intruders to fight, they knew about possible outcomes. Choices were limited to
we get killed, we get injured and leave, they get killed, they get injured and leave, or we join forces
. Not surprisingly,
join forces
was a common practice because it served to reduce conflict, thus increase survival. 
Canines, more specifically dogs, have joined forces with people to form a new cultural partnership. Domestic dogs are the only non-human animals to have developed such a close relationship with people that they can
read our faces
and determine in which emotional state we are. I know this doesn't come as a surprise to most readers, but the fact that dogs want to avoid conflict with people might be new information for some.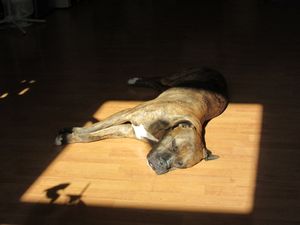 Conflict Evolution
Conflicts stem from incompatible belief systems and miscommunication between individuals. Once we eliminate cultural discrepancies we're left with interspecies miscommunication as the primary source of conflict. Not surprisingly, humans and dogs fall under this category. Humans don't understand dog language; consequently, these misunderstandings create conflicts (read bites). To avoid conflicting situation, it's essential people put aside their beliefs and see dogs as the truly communicative and flexible creatures they are. Pet guardians need to learn how to talk dog if they're to stop aggression from escalating. I'm not telling you to get on all fours and growl at your dog, that would be foolish; however, you can learn displacement and agonistic behaviours and use them in order to avoid or reduce conflicting situations.   
Although it might seem impossible to live a conflict free life with people, it's possible to achieve a peaceful relationship with dogs. With today's information era, there's no reason why you should not learn dog language. We have the tools and we can use them to understand what dogs say. Once you've mastered interspecies communication, conflicts will diminish, for conflict isn't something dogs want. I'm certain your dog prefers to sleep by your side, in the sun, and wait for your next adventure.