By Gaby Dufresne-Cyr, CBT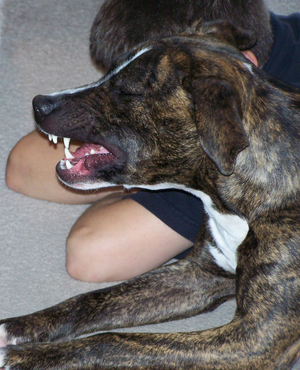 Does your dog snarl, snap, or bite? Was your dog labelled fear-biter by Google or another trainer? If so, you might want to read what follows because this week I will discuss misunderstood dog behaviours, more specifically fear biting. My objective with this article is to clarify terminology in order to establish a better understanding of dog behaviour. 
  
Terminology 101 
Fear: an unpleasant emotion caused by the belief that someone or something is dangerous, likely to cause pain or a threat. Fright is the expression of fear: a sudden intense feeling of fear. 
  
Anger: a strong feeling of annoyance, displeasure, or hostility. Aggression is the expression of anger: hostile or violent behaviour or attitudes toward another; readiness to attack or confront. 
  
Dominance[1]: exert power and influence over others. To understand the term dominance, replace the word with confident: a feeling of self-assurance arising from one's appreciation of one's own abilities or qualities. 
  
Submission[2]: the action or fact of accepting or yielding to a superior force or to the will or authority of another person. To understand the term submission, replace the word with insecure: not confident or assured; uncertain and anxious; unsafe. 
  
Inhibition: unable to act in a relaxed and natural way because of self-consciousness or mental restraint. Inhibition can also refer to the freeze response: to become immobilized through fear, shock, etc.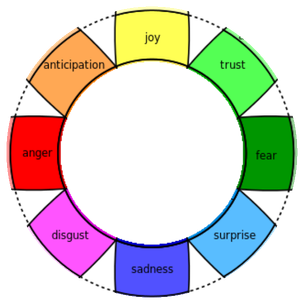 Biology 101 
Fear and aggression are emotions; more specifically; these two emotional reactions are experienced in opposition by the brain. Different chemicals are released when dogs experience fear or aggression. 
  
A fearful response will release dopamine, norepinephrine, epinephrine, glutamate, gamma-aminobutyric acid (GABA), and serotonin, whereas anger will be associated with acetylcholine, serotonin, adrenaline, noradrenaline, vasopressin, testosterone, and oxytocin. 
  
When dogs experience fear they normally react fearfully by running away. When dogs cannot run away because of environmental constraints, two responses are left: freeze or fight. The emotional confusion gave birth to an inappropriate term, the fear-biter. A dog that bites out of fear is labelled fear aggressive, yet fear and aggression are two distinct emotions.

I know I'm repeating myself, but I really want you to understand the distinction because a new understanding will help address the problem for what it really is, insecurity not fear. We can teach dogs to become more secure and when dogs feel they have some control over the outcome of a situation, confidence increases while aggression decreases.    
  
Dog Fear or Dog Aggression 
As mentioned above, fear and anger are diametrically opposed. A dog cannot respond fearfully and aggressively at the same time. A choice has to be made in the animal's mind; the dog must change strategies and choose between retreat and charge. If we replace dominance and submission with confident and insecure, the fear-biter label disappears. 
  
Insecure dogs can react aggressively or fearfully whereas confident dogs can only react aggressively. If fear aggression was indeed possible, we would observe confident dogs displaying fearful behaviours. Unfortunately, that has never been observed; hence, fear aggression is not a valid term to describe canine behaviour. If you take notice, the top right quadrant of the following image is empty. Again, dogs cannot display confidence and fearful behaviours simultaneously. 
New terminology 
New terminology needs to accompany our descriptions if we're to discuss appropriate dog behaviour. Fear biter labels should no longer exist. The old term should be replaced with either submissive or insecure bitter. Why is this so important? Because it removes a third misconception we hold about dog behaviour which is dominance equals aggression. 
  
Because dominance is a state of being and aggression is the expression of emotion called anger, dogs can be dominant without being aggressive. Submissive dogs can display fear, aggression or inhibition; however, canines simply cannot display fear and aggression simultaneously. I know I'm being repetitive, but this is important. 
  
EndNote 
Healthy doses of fear and anger are positive outcomes for animals. People don't like to see aggression in their pets for fear of judgement, yet both emotions are useful because they help keep humans and non-humans alive. 
  
I don't know why fear and aggression are such dirty words when it comes to dog behaviour. We are aggressive and fearful animals, but that doesn't make us bad humans. Extremes are counterproductive which renders individuals unhealthy. I don't want to start on the United-Sates' presidential campaign, but it should be obvious to people that too much of a good thing, can be a bad thing. The same goes for dog behaviour. 


References
- Abrantes, R. (1997). Dog Language: An Encyclopedia of Canine Behavior. Publisher: Wakan Tanka.

- Abrantes, R. (1999). Evolution of Canine Social Behavior. Publisher: Wakan Tanka.

- Casey, R.A., Loftus, B., Bolster, C., Richards, G.J. and Blackwell, E.J. Human directed aggression in domestic dogs (Canis familiaris): Occurrence in different contexts and risk factors. December 2013. Applied Animal Behaviour Science 152 52– 63. ​

- Febo, M. and Ferris, C.F. Oxytocin And Vasopressin Modulation Of The Neural Correlates Of Motivation And Emotion: Results From Functional MRI Studies In Awake Rats. Brain Res. 2014 September 11; 1580: 8–21.

- Siegela, A., Roelingb, T., Gregga, T.R., and Krukc, M.R. Neuropharmacology of brain-stimulation-evoked aggression. Neuroscience & Bio Behavioural Reviews. February 1999. 

- Tulogdi, A., Biro, L., Barsvari, D., Stankovic, M., Haller, J., and Toth, M. Neural mechanisms of predatory aggression in rats - Implications for abnormal intraspecific aggression. Behavioural Brain Research. January 2015. 
[1] Dominance defined as intraspecific; conspecific behaviour; between individuals of the same species. 
[2] Submission defined as intraspecific; conspecific behaviour; between individuals of the same species.