By Gaby Dufresne-Cyr, CBT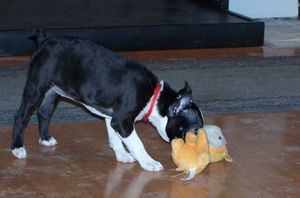 While we certainly don't encourage people to buy puppies for Christmas, tis the season for thou new bundle of joy to enrol in puppy class. Puppy socialisation classes aim to teach puppies how to communicate as adult dogs in order to live well-adjusted lives amongst the canine and human population. In essence, socialisation teaches an animal how to communicate and socially conduct itself later on in life. Today, I wish to revisit the nature of these classes in relation to the critical period of development known as socialisation.
 
Socialisation Period
The critical period of socialisation was discussed thoroughly in Scott and Fuller's (1965) book Genetics and the Social Behavior of the Dog. The authors explain "By a critical period, we mean a special time in life when a small amount of experience will produce a great effect on later behavior." (p. 117) Puppy socialisation starts approximately on the third week to end roughly around twelve weeks of age. No need to tell you twelve weeks is equivalent to three months old. This means by the time people acquire their puppies, much of the critical period of social development will have gone by; consequently, pet owners have little time to do a lot of work.  
 
Puppy Classes
Traditional puppy classes were designed to teach basic skills such as sit, down, come,  stay, no bite, and loose leash walking for young dogs between two and five months old. More recently, kindergarten classes, or socialisation classes, began to pop up. These group classes are offered to puppies between eight and twelve weeks of age. Group size varies between four to eight puppies.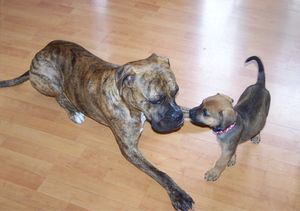 People take these classes to better train or socialise dogs, but one fundamental key is missing in the process, actual adult dogs. The ability to learn one's language and use it in proper context cannot be achieved from one puppy to another. Comparatively, if two-year-old kids were left in a room without adult intervention, how could we expect them to learn to share, not hit one another, be patient, or any other proper behaviour? The answer is, we couldn't.
 
Two-year-old kids would learn many things, but they probably wouldn't learn how to properly conduct themselves in adult social situations. Kids need adults to teach them the rudiments of social interaction. So do dogs.
 
New Puppy Class Model
In our opinion, each and every puppy class should be conducted with at least one stable adult dog present for every four puppies present in class. Adult dogs teach puppies how to greet, play, cooperate, and communicate. In essence, adult dogs parent puppies, which is how nature intended it to be. Our job is to make sure socialisation occurs in the most positive way possible when puppies go out into the real world. Young dogs need to learn and practice from a variety of adult dogs how to become awesome canine citizens. As dog owners, we simply need to make sure puppies remain safe during the process.

Reference:
- Scott, J.P. and Fuller, J.L. (1965). Genetics and the Social Behavior of the Dog. Chicago, IL: The University of Chicago Press.