By Gaby Dufresne-Cyr, CBT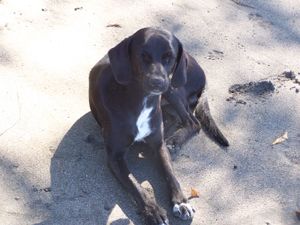 We were in a small village in the northern part of the Dominican Republic, between San Juan and Puerto Plata. The three kilometer section of beach I was covering that week was delimited by a small river to the west, a larger river to the east, to the north was the open ocean, and a dense forest to the south made land access impossible. On the last day of the trip, I decided to follow a dog I had not seen during the week. Since the subject had not been identified, I thought I would add another feral dog to the research list. As we walked towards the dog, I spotted a unusually big algae mass. I went over to investigate. Nestled in the algae, I discovered a dead puppy. She was bloated and had a fresh puncture on her back. I estimated her age between six and seven weeks old.
This unidentified female puppy either ran away from home and drowned in the river which washed her out to sea and back to shore. I thought this hypothesis was highly unlikely since small puppies don't wonder off at such a young age. Plus, this didn't explain the puncture on her back. Other possible causes of death are an unwanted litter someone killed and threw offshore, or she was used as a bait dog. 
I came to the conclusion this puppy had been used as a bait dog. She had undoubtedly wiggled off the hook and drowned at sea. The ocean washed her back to shore where I discovered her. I know this is a sad story, but it has to be told.  
Dog Status
I want to draw your attention to the dog status around the world. In the United States, Canada, and certain European countries, dogs are valued as family members. They live in our houses, sleep in our beds, and receive the best care possible. However, for the rest of the dog population on earth, this isn't so. Life is difficult and short.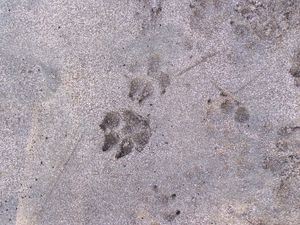 Around the world, dogs are seen as useful commodities or unwanted nuisances. Useful dogs watch over chickens, pigs, cows, and goats and send the alarm when necessary. These canines don't receive veterinarian care, and if people don't toss them food, they eat what they can find. It's hard to imagine, but these dogs never go inside people's homes and certainly never sleep in their beds. Some lucky dogs have a name and eat well. The unlucky
nuisance
dogs get chased away and fend for themselves. 
The World Health Organisation even warns people against
feral dogs
. People are told not to come into contact or touch these animals because they carry diseases like rabies and mange. You might not know this, but rabies does kill a lot people outside North America; therefore, to control dog populations, people cull them. Dogs are shot, drowned, fed to wildlife, or in certain countries, are eaten by people. The WHO recommends vaccination, but for poor countries, inoculation is not an option. 
The reality of our dog status is very different from the rest of the world. While we cherish our animal friends, many cultures look at us with disdain and disbelief. Maybe one day dog perceptions will change, till then, I respect the reality many people are faced with. I couldn't bury the puppy because she was washed back out to sea. I can only hope no other dog will have to face this death. As for me, comfortably seated in our lounge, I think to myself, even if our animal laws are inadequate in Canada, I'm glad we live in a country which values dogs. I can sleep well knowing my furry friends will never have to fend for themselves and die in the process.
​Street Dog
 - YouTube