By Gaby Dufresne-Cyr, CBT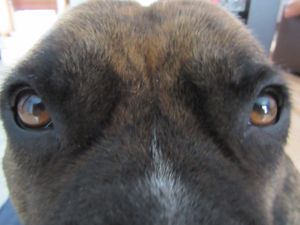 Ever have one of those days when you feel, for no particular reason, like nothing is going right? You drop everything, the milk went bad, the cat pooped in the tub AGAIN, the dog had a fence fight with the neighbour's dog, and the kids, well, let's say you're glad they went to school. I'm having one of those days; therefore, I decided to write about the consequences of such moments with you because they have a direct impact on your human-dog relationships. 

This morning I woke-up late, went to work in the snow, walked into the office only to smell an overdue garbage bag, no more milk for coffee, turned on the computer to discover no internet, Ugh! This is the precise moment where I let out a "You got to be f***ing kidding me!" which sent my dog into an emotional response.
 
My dog went as far away as he could from me only to return to make amends. Dogs don't like conflict and will want to resolve it at the moment it ends. The problem with this type of situation is that the dog's presence can irritate us more. Humans need a longer emotional recovery period than dogs do, so we need to tell them not now. That being said, we do need to get back to the conflict eventually and resolve it.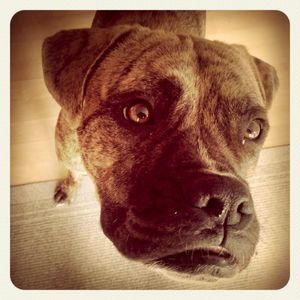 When I bent down to look at the modem, my dog came over to solve the conflict. It really wasn't a good time, so I told him to "Go park your but." In our family, that means go lie down in your crate and wait there till called. I fixed the modem, calmed down and called my dog out. I was ready to fix the conflict and re-bond. In social cognitive theory, the relationship is an indispensable part of the learning triangle; consequently, you cannot leave your dog in emotional distress because these situations accumulate and cause disruptions.
 
I made amends with my dog and told him all was fine, which in turn, helped us both to calm down even more. If you punish your dog, scream at him, or in my case scream at the computer, you must immediately solve the conflict and allow your dog to recuperate from the emotional outburst. Don't leave your dogs hanging just because you're pissed at something, at someone, or at them. Take a moment, as soon as possible, to mend emotions.
 
Canines are highly emotional creatures who need to know you're a stable and trustworthy human. Nothing is ever perfect and yes we do loose our cool, but it's important you understand dogs seek resolution when emotional outbursts occur.
 
One last word to wish all our Irish friends an awesome St-Patrick's day, even if the snow covers all shades of green, drink a cold one for us will ye now!