By Gaby Dufresne-Cyr, CBT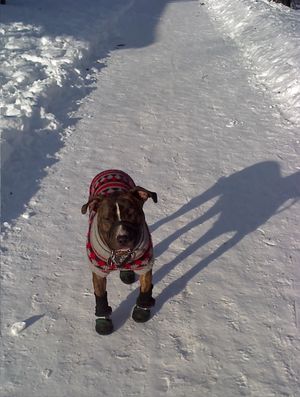 Every spring I see a reoccurring phenomenon. I've termed this event Winter Puppy Syndrome*. The cyclical event occurs every spring and affects the behaviour of thousands of dogs. Winter Puppy Syndrome is an insidious phenomenon that brings on life-altering behaviour changes that are almost impossible to modify. 

Critical Periods
Critical periods of socialisation and exploration occur roughly between four week and fourteen months of age. These two periods are responsible for proper puppy development. During socialisation, puppies learn how to behave later on in life. The exploratory phase, or adolescence, enforce social skills and creates secure attachments. Teenage dogs also learn what to expect from the environment and their role in it.
 
You might start to see how winter can affect puppy development. If not, let me explain. Pet owners who acquire puppies late fall, or early winter, tend to keep their puppies inside because of the cold. To add insult to injury, so to speak, the regular adult dog population is also confined inside for the same reason. Consequently, new winter puppy owners who try to socialise their pets will find less human-dog teams outside. Rest assured, we don't blame you, we stay inside too!
 
Winter Side Effects
The winter puppy phenomenon has a direct impact on behaviour. Puppies who are not well socialised and don't get to explore their environment in a safe and secure fashion tend to be reactive, insecure, fearful, and even aggressive. Because of winter isolation, puppies have not learned how to become well adjusted canine citizens. Small dog breeds are even more at risk of Winter Puppy Syndrome because owners believe cold weather affects them more. This might be true for certain breeds, but definitely not for all of them.
 
Unfortunately, people are not aware of the negative consequences winter isolation has on adult dogs. Behavioural problems are the reason I decided to write this article because secure attachments and communication skills are formed during socialisation and exploratory critical periods of development. When people keep their puppies inside for long periods of time, they compromise future behaviour.
 
Winter puppies come to me in late April or early May as dysfunctional canine citizens who bark excessively at other dogs, lunge, snap, bite, react to people, fear random objects, pull excessively on the leash, growl, and so forth. Small breeds are worst-off because they are kept in travelling bags or in someone's arms. Simply said, winter puppies grow-up not knowing how to conduct themselves as teenagers or adult dogs.

Solutions
Puppy socialisation classes are a great place to start. That being said, proper behaviour takes time to learn, so make sure you can access well-adjusted adult dogs throughout those long winter months. You can also join an organised dog walk group. If you cannot find a dog walk group, why not create one? If you do start a puppy walk, make sure to invite well-adjusted adult dogs to the group. Whatever you do, focus on social and cognitive skill development because I would hate to see you in our office next spring. 

* Not an actual medical condition.