By Gaby Dufresne-Cyr, CBT

This post is intended for pet owners and dog training or behaviour professionals alike. It might be a negative read for some, all the while be informative for others. If you are upset about this article, please leave a comment to tell us why.

Today, I want to address the taboo subject of dog training, prices. This article is not about naming names or pointing fingers, it's about instilling professionalism in an unregulated occupation. How do we standardize prices when dog training or behaviour consultation is not a recognised profession? How do clients make sense of the sometimes nonsense fees? I have been secretly debating this topic with many friends and find it necessary to disclose price irregularities and recommend a solution.


What to Charge
When clients contact me, I always discuss the case with them beforehand in order to learn what's the problem and how much I will charge. Without a governing body, it's difficult to assess what our services are worth; furthermore, since professionals tend to conceal their fees, it's very difficult to establish a reference point. In order to figure out my cost, I decided to look at a similar profession who has a governing body. For my profession, I chose the psychology fee and general salary guide.
 
According to the Ordre des Psychologues du Quebec, Code of Ethics, Professional Code (R.S.Q., c. C-26, s. 87), Chapter III, Division VIII, Fees, Section 52:
Psychologists must charge and accept fair and reasonable fees warranted by the circumstances and the costs of providing the professional services.
To determine their fees, psychologists must consider the following factors:
1) their experience or particular competence;
2) the time required to provide the professional services;
3) the complexity and extent of the professional services;
4) the performance of professional services that are unusual or provided in unusual conditions; and
5) the performance of professional services that require exceptional competence or celerity.

The average national psychologist fee across Canada is 72$ per hour. Although the Ordre des Psychologues du Quebec does not impose a price guideline, psychologists in Quebec tend to charge between 80$ to 120$ per regular 50 minutes sessions (ordrepsy.qc.ca, 2015). Before we continue, let me remind you, psychologists are required to have a doctorate degree to practice their profession.
 
If you think a visit to the psychologist is pricey, I have seen inexperienced dog trainers charge 150$ per hour for a first time visit. Like you, I'm appalled because dog trainers are not required to have any formal education what so ever. I my opinion, price justification should take education and experience into account. Mind you, most professionals do charge a reasonable amount and do educate themselves, but without some kind of guideline, it's very difficult for people to assess service fees based on education or experience.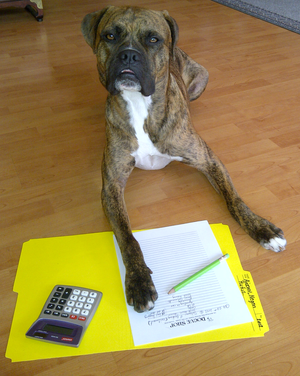 The Solution
I propose we base our services on existing professional governing bodies. We could use the Ordre des Psychologues du Quebec as our leading identity till our profession becomes recognised. Personally, I adhere to their ideas and have fixed my prices according to the Order and my experience. I believe prices between 80$ and 120$ per hour are fare and honest rates for most regular dog trainers. Furthermore, reasonable costs make dog training accessible, affordable, but most importantly, professional.
 
I know some dog trainers and other professionals might be outraged. I respect their opinion. Nevertheless, I believe the time has come for an open discussion about prices and our profession in general. Clients need to discriminate prices based on junior, intermediate, or senior trainer experience. We need to unite and make a change, for, we practice a profession that does cause harm when not exercised appropriately.
 
References:
- Éditeur officiel du Québec. (2014) Code of ethics of psychologists, chapter C-26, r. 212. Professional Code (chapter C-26, s. 87). Retrieved from: http://www2.publicationsduquebec.gouv.qc.ca/dynamicSearch/telecharge.php?type=2&file=%2F%2FC_26%2FC26R212_A.htm
- Retrieved from : https://www.ordrepsy.qc.ca/en/public/la-psychotherapie/how-much-should-a-psychotherapy-cost.sn
- Retrieved from: http://www.payscale.com/research/CA/Job=Psychologist/Salary